Yesterday featured, among much Mother playing, a bizarre confluence of events that led to me desiring and acquiring the ability to watch a certain anime at almost the exactly same time.
1. I was reading about pre-European American and was curious about
quipu
.
2.
Wikipedia
is always helpful.
3.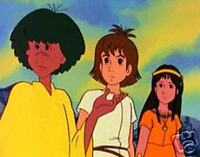 In film?
4.
The Mysterious Cities of Gold
, a Japanese and French co-production. OH WONDER OF WONDERS. I was just about to tell my friend who is stockpiling anime for our upcoming club meetings to look for it when...
5. I found it out would be showing THAT VERY EVENING.
Needless to say, it was awesome. Totally old-school animation and music. Unfortunately the English dub, but that even added some charm. Can't wait for next Saturday.